SPV Saltwater Series
The Saltwater Series is the ultimate in a saltwater flats fishing airboat!
Whether fishing the hard to get to areas where the lunkers hide or gliding inches over the oyster bars of the gulf in pursuit of redfish. The Saltwater Series comes equipped with all the necessities for the ultimate fishing experience, such as polished stainless steel rigging, lockable 7′ rod box, aerated live well with bait separator, insulated cooler and Big Block Performance.
Hull
One-Piece Bottom Construction
Non-Trip of Latest Design
Lengths Available 16', 17′ and 18′
Beam 8′
High Sides and Transom for Safety
Transom relieved 15 Degrees for Rear Wash Safety
All Welded Aluminum Construction Bottom and Transom Marine Alloy 5086 .190
Bulkhead and Sides Marine Alloy 5052 .125 Aluminum
Bottom Stiffeners Equally Spaced Across Bottom
Min. 7- 2" X 2" X 1/4" T-Bar Stringers
Mid-Ship Cross Brace
Recessed Deck Area 36" Width
Storage Under Bow with Flush Mount Lockable Access with Drip Rail
3/4 Walkaround
Top of Deck Non-Skid for Safety
Lockable 7′ Rod Box
Aerated Live Well with Bait Separator
Insulated Cooler
Custom Hull Stripe
Tackle Box
Polymer
3/8" Polymer Bottom
Attached with Stainless Steel Fasteners
Seating
Seating for Five, Two Single Rear Operator, Triple Seat Up Front
Your Choice of Color Custom Marine Vinyl Seat Cushions and Rain Covers
Rigging
Stainless Steel Super Structure with 11/4" Engine Stand Supports
Stainless Steel Seat Package and Cage
Equipment
Cable Steering Attached to Top of Rudders
Stainless Steel Flex Pipe 3"
Stainless Steel Headers
Stainless Steel Mufflers
Heavy-Duty Engine Cooling Aluminum Radiator
Aluminum Coolant Expansion Tank
U.S.C.G. Approved Radiator Hoses
Complete Bilge System
Dual Batteries with Battery Boxes
Ignition Protected Battery Selector Switch
Certified 50-Gallon Aluminum Fuel Tank with Remote Fill
4-Foot Air Foiled Aluminum Rudders, Foam Filled, Nylon Bushings
Stainless Steel Rudder Rods
Rudders Attached with Rod Ends
Assembled with Stainless Steel Fasteners
KC Lights Attached to Cage
Rod Holders on Cage
Stainless Steel Flush Mount Cleats
Floor Board Courtesy Light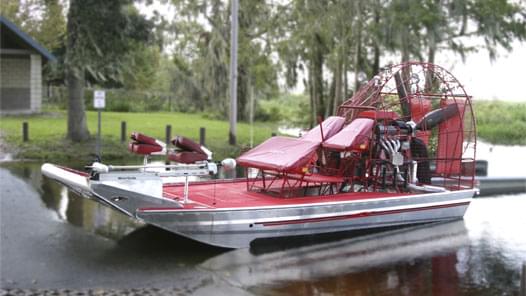 Engine
New 509 C.I.D. / 520 H.P. GTO/MAS Engine
New Holley 800 CFM Carburetor/87 Octane Fuel
12 Volt 65 Amp Alternator with Dual Belt/ Pulley System
Electric Fuel Pump with Fuel Filter/Water Separator
U.S.C.G. Approved Fuel Lines
Certified Marine Spark Arrestor/with Rain Cover
HEI Distributor
Heavy-Duty Flywheel
Reduction
Stinger Gear Reduction
2.38 to 1 Ratio
Soft Drive
Propeller
Adjustable Pitch Composite Propeller Matched to Horse Power of Engine
Instrumentation
Marine Standard Wiring
Lighted Marine Gauges
Labeled Marine Toggle Switches
Voltmeter
Temperature Gauge
Oil Pressure Gauge
Tachometer
Hour Meter
Fuel Gauge
Marine Keyed Ignition Switch
1- 12 Volt Marine Power Point
Fuse Panel with Circuit Breakers
U.S.C.G. Approved Navigational Lights
Engine Warning System
Trailer
Aluminum
Tandem Axle (3500 lbs. Per axle)
2" Heavy-Duty Coupler
Heavy-Duty Tongue Jack with Wheel
Heavy-Duty Wench
Easy Grease Bearings
Carpet Side Boards/EZ Load Rollers on Rear
D.O.T. Lights