ABOUT GTO PERFORMANCE AIRBOATS
Search & Rescue Airboats, Commercial Airboats, Competition Airboat, Recreational Airboats, or a Dual Purpose Airboat.. GTO builds the highest quality airboat available today!
GTO Performance Airboats was started to fill the void that has been present in the Airboat Industry by providing innovative products that are unsurpassed in quality, materials, and craftsmanship. We believe this has been the key to our success in building airboats that are superior in performance and reliability.
Our Airboats are manufactured in our 27,000 square foot facility using the latest state-of-the-art equipment. The quality and attention to detail in each GTO airboat is controlled through the production process by using engineered blue prints.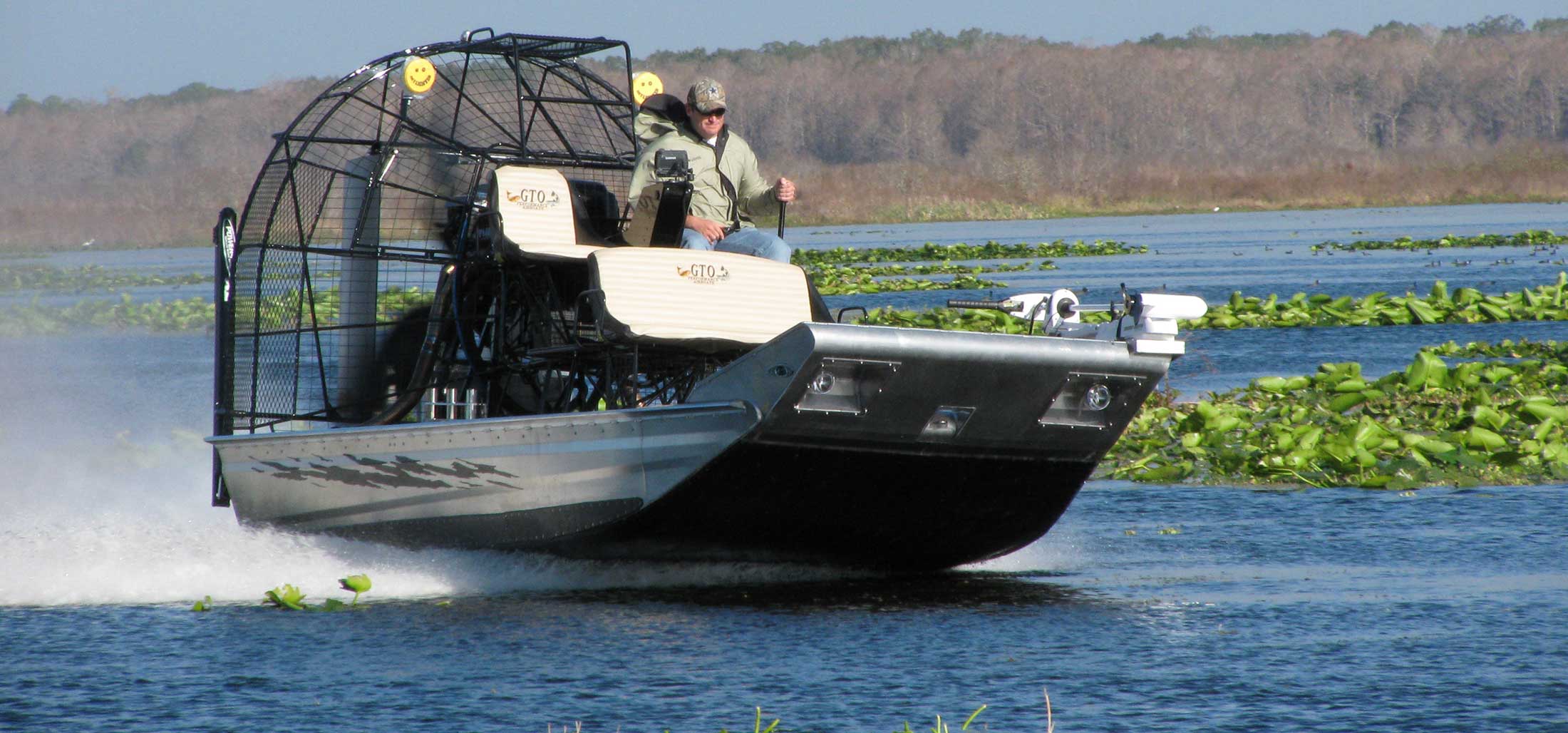 Unlike many airboat builders, GTO provides each customer a written warranty, complete owners manual with operation instructions, maintenance schedule, and service items
One piece .190 5086 marine grade hull bottom
Complete welded hull (including inside of bulkhead)
Welded T-bar stringers from transom thru bulkhead
Detachable component style rigging
Cabled steering attached to top of rudders
Steering rudders set up on rod ends
Built to engineered specifications
Marine standard color coded wiring with heat shrink on all terminal fittings
1/0 battery cables
12 volt auxiliary receptacle
Remote Fuel Fill
Dual batteries with battery selector switch
Engine warning system
Heavy duty flywheel on automotive engines
Marine gear reduction starter
All fuel and water hoses U.S.C.G. approved
Custom aluminum rain cover over carburetor and distributor
Lifetime warranty on hull to original purchaser (recreational use)
Two year warranty on hull to original purchaser (commercial use)
In house engineer
Two million dollar product liability insurance
Owners manual – Service items noted – Service intervals noted